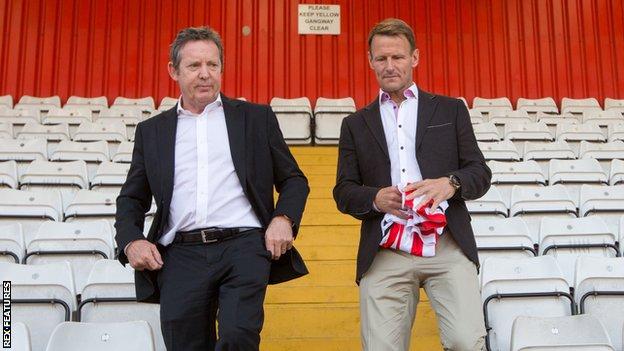 I don't know where you lot get it from that Leon Hunter (no relation) is responsible for signing all of our players, cos he's not. But when I say that, what I mean to say is that he's not responsible for signing all of the shit ones. Leon is, however, responsible for the signing of all of the good players. And I mean every single one of them. That includes Matty Godden, Luke Freeman, Steve Morison and Barry Hayles. In fact, if it wasn't for Leon (no relation), who identified and signed a young protege by the name of Martin Gittings, who went on to score 744 goals for us in 25 games, we would never have won the United Counties League in 1981.
The signing of shit players was entirely down to Dino Maamria, Darren Sarll, Graham Westley Mark 3, Teddy Sheringham, Graham Westley Mark 4, Gary Smith, and Mark Sampson (when he was caretaker manager responsible for signing shit players). On each and every occasion that each of these hopeless managers came to me and Leon with a name of someone that he wanted to sign, both me and Leon would say "but, Graham Mark 3 (or whoever it was that was trying to sign Noor Husin), they're shit" and we would definitely say that there's no way that we're going to let you sign Noor Husin. This transfer policy has been so successful we can proudly claim to be the 21st best team in League 2.
On occasions, managers will ask Leon to scout, for example, a ball winning midfielder who is able to pass the ball 5 yards to a player in the same coloured jersey. It's not Leon's fault that these players can do this on FIFA21 but, when it comes down to it, Jonathan Smith (for example) hasn't got any of these attributes. It's entirely the fault of the manager who, when furnished with the name Jonathan Smith (for example), then chooses not to travel around the country to watch him play. In fact, me and Leon vividly recall telling whichever manager it was that signed Jonathan Smith that he shouldn't ultimately sign Smith because, judging by other recent acquisitions that the manager has made after being given that name as a recommendation by Leon, then he's bound to be shit. It's this sort of stand out advice that has made Leon (no relation) not only a trustworthy and astute Head of Recruitment, but also a damn fine son-in-law.
So, to reiterate, managers are bad and Leon is good. Supporters should always blame the managers. Apart from the current manager, who can't be blamed until he's been sacked in May 2021. Especially as (checks notes to see who this week's manager is) Alex Revell has such a happy squad that none of his players would ever dare to suggest otherwise on social media immediately after another home defeat.
Also, should anyone be stupid enough to blame Leon for recruiting our hopeless managers, then that would be plain stupid because we are still trying to work out who we can blame for manager recruitment. I can, however, confirm that Leon appointed Revs, who has taken us to the dizzying height of 21st in League 2 with a strong and happy squad. Until it all goes tits up, when we'll say that Leon had nothing to do with it.
So, in conclusion, Leon is a top notch Head of Good Player Recruitment and a brilliant relative through marriage, although I have no vested interest in saying so.